In an effort to help Scouts and adult backpackers better prepare, I explain the importance of a Go Box.

A Case for the Go Box
Even with the aid of a checklist, I found myself still having to rummage through the house, attic, basement and garage for my equipment. That takes time and a lot of mental effort. So to remedy the problem, our family each has a personal, backpacking Go Box.
Our Go Boxes each have all the equipment we might need for either an overnight, a weekend or longer trip. So when it's time to pack, I don't worry about where I left my trail runners, wind shirt, or spoon–its all in one box and ready to go.
Food is the exception; although we still keep a bag of Clif Bars and a bag of basic hot drinks. We actually have a Go Box for our food as well.
Our boxes are big enough (12-Gallons) to fit everything we need to "go," including our backpacks, trekking poles and shoes, except for our sleeping bags, which are stored in large duffel bags next to our boxes.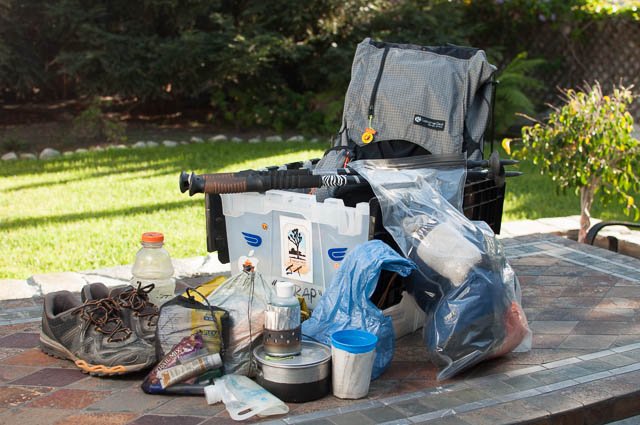 We don't bring everything in the box, only what we need for that particular trip. If I am going solo, or fending for myself in a group, I have a slightly smaller, one-person kit. If my wife and I are going together, we bring a larger shelter, a slightly larger pot for heating water and a higher-volume fuel bottle for our stove.
Having a Go Box to collect all my essentials also gives me peace of mind at the trail head. I no longer have to worry what I may have left behind while departing.
Last-minute packing is a recipe for failure; it encourages taking too much or not enough.
Another benefit of the Go Box is keeping my backpacking gear at home separate from car-camping and/or hiking gear. I can count on every piece of my kit being ready for action.
We bought six of the nesting, 12-gallon plastic storage containers for under $10 each.
First, Get Organized
Having the right equipment is one thing, remembering to bring it is another….
I can't stress enough the importance of a checklist. As a pilot, I never left the runway without first going through every point of a checklist, regardless of how well I thought I had it memorized.
I follow the same procedures with backpacking; I have a full-page checklist, detailing my equipment categories and sub categories. The checklist is used during packing.
I also have a "Quick List," the size of a credit card, attached to the interior of my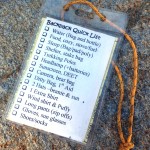 backpack with just the major categories. The Quick List is for the last-minute checks at the trail head.
I am–by most accounts–a weekend warrior. As much as I would love to do a long trail, my schedule and family responsibilities do not allow the luxury of taking a few months off of work. Instead, I average two overnight or weekend backpacks a month. That's a lot of packing and unpacking. Some of my trips are last-minute, meaning that I have less than a hour to pack and hit the trail.
So, if you find yourself stressed over gathering your equipment before each trip, try using a go box. It is a simple and thrifty solution to lost or misplaced gear.