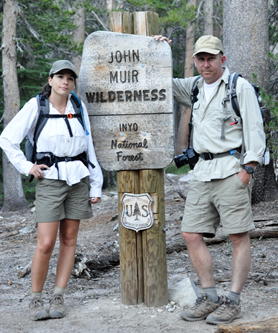 My wife Amber and I are both avid ultralight backpackers and photographers.
Living near the mountains gives us the opportunity to hike hundreds of miles in the San Gabriels all within minutes from our front door.
Traveling light is a passion and a lifestyle, and we try to pass on our enthusiasm and knowledge by serving with the Boy Scouts of America in Troop 4, Pasadena, CA.
As a leader for our Backpacking Program, I am an educator of the BSA and it's values. I enjoy teaching natural history, sharing techniques and gear ideas, as well as the joy of lightweight & ultralight backpacking.
I hope you find my site helpful, but mostly, I hope I can help inspire you to do something with it.
Now, grab a pack and go hike!